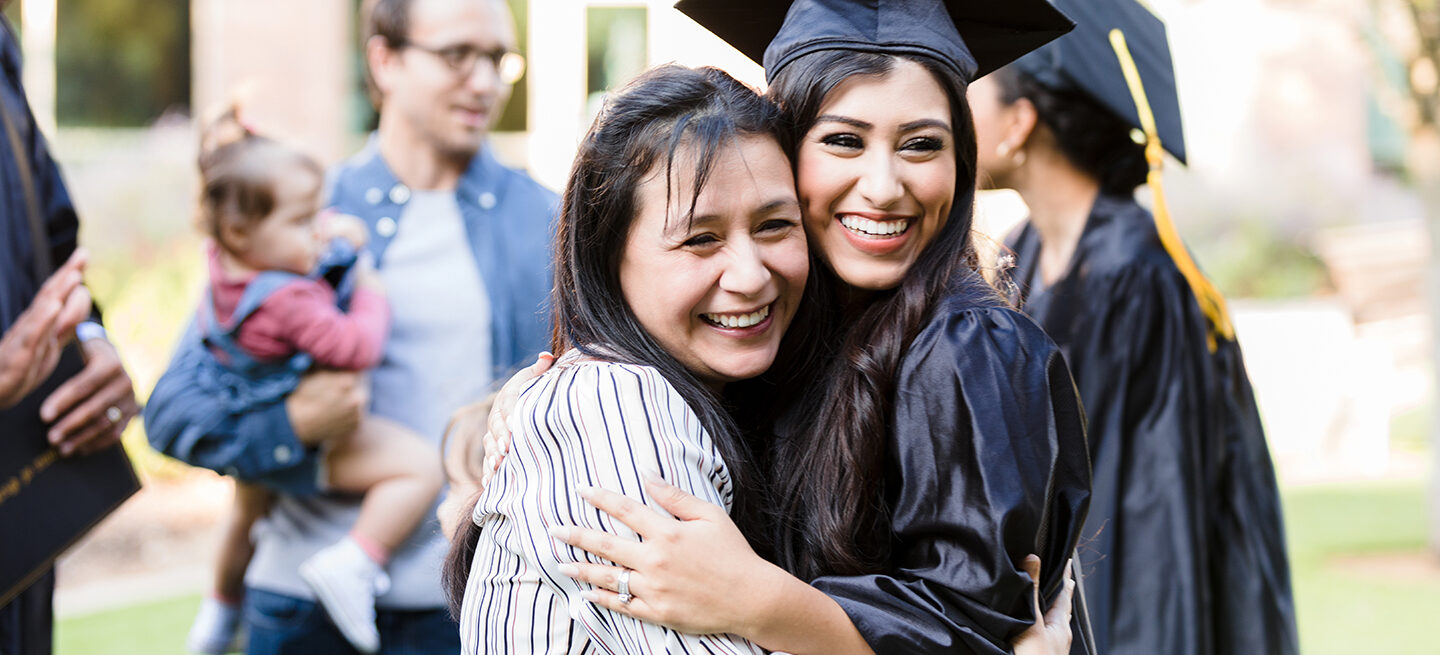 Five Things to Know About College Completion in America
Education Landscape
In 2020, around 19.4 million students started their first year of college in the fall, according to the National Center for Education Statistics. By the end of four years, 40% of those students will earn a degree, which increases to a 60% completion rate at the six-year mark.
To better understand college completion, Sallie Mae® and Ipsos conducted a new research report, How America Completes College, looking at students' journeys to college graduation, barriers to completion, and opportunities to support their success. The study compares the perceptions of higher education among Completers (young adults ages 18 to 30 who have completed a 2 or 4-year degree) and Non-Completers (young adults ages 18 to 30 who started a 2 or 4-year degree but withdrew before completing the program).
Five findings from the research include:
1. First-Generation Students Need More Support
Nearly 70% of Completers have at least one parent who graduated from college, compared to 51% of Non-Completers. This suggests that for first-generation students, degree completion rates tend to be lower.
Previous research has also shown less than one-third of first-generation students plan to submit the FAFSA (Free Application for Federal Student Aid), a key step to receive financial aid.  This supports findings that first-generation college students require additional financial, academic and social support while completing their program.
2. Completers are Confident and Committed to Higher Education
Nearly three-quarters of Completers said they decided to attend college before reaching high school, with 60% saying they "always" knew they would go. Nine-out-of-ten Completers were confident a college would accept them, and 89% felt sure they'd graduate.
In comparison, more than half (55%) of Non-Completers decided to pursue higher education after they started high school; 34% decided to attend college during their junior year or after.
One more critical difference: Nearly 60% of Completers were confident in their family's ability to pay for their degree.
3. Completers More Likely Had a Plan to Pay for College
Completers were more likely to prepare for college by discussing the application process with their family, taking Advanced Placement or International Baccalaureate classes, and preparing to pay for school.
Overall, 42% of Completers had a plan to pay for college education before while only 26% of Non-Completers had a plan.
Research has also underscored the connection between planning to pay for college and maximizing the choices a student has when selecting a college. 
4. Completers View College as Investment
An overwhelming majority of Completers — 82% — consider a college degree an investment in their future, compared to just 58% of Non-Completers.
Moreover, 60% of Completers knew the exact career or the general field they wanted to work in when starting college.
5. Non-Completers Don't Feel Supported
Nearly all Non-Completers – 92% — report being motivated by a parent, teacher, high school counselor or friend to go to college, but once on campus they lose that sense of support.
More than 40% of Non-Completers rated resources for academic, financial and mental health as fair or poor. This lack of support is compounded by the issues Non-Completers report, including difficulty prioritizing mental health, struggling to find the right career path or major, and financial difficulties.
---
These findings demonstrate the importance of talking regularly about the options for higher education— including trade and vocational schools — and options to pay for those schools.
They also highlight the need to provide financial support to first-generation college students, low-income students and those from traditionally underserved communities who are more likely to be at risk for not completing their degree or career program.
Resources should be focused on these students, so they can complete college confidently with greater access to scholarships and grants. Sallie Mae® is proud to be supporting through a scholarship program with Thurgood Marshall College Fund to help students from underserved communities access and complete college.
It's one of the many ways Sallie Mae® is working to ensure more students achieve their dreams of earning an advanced degree.