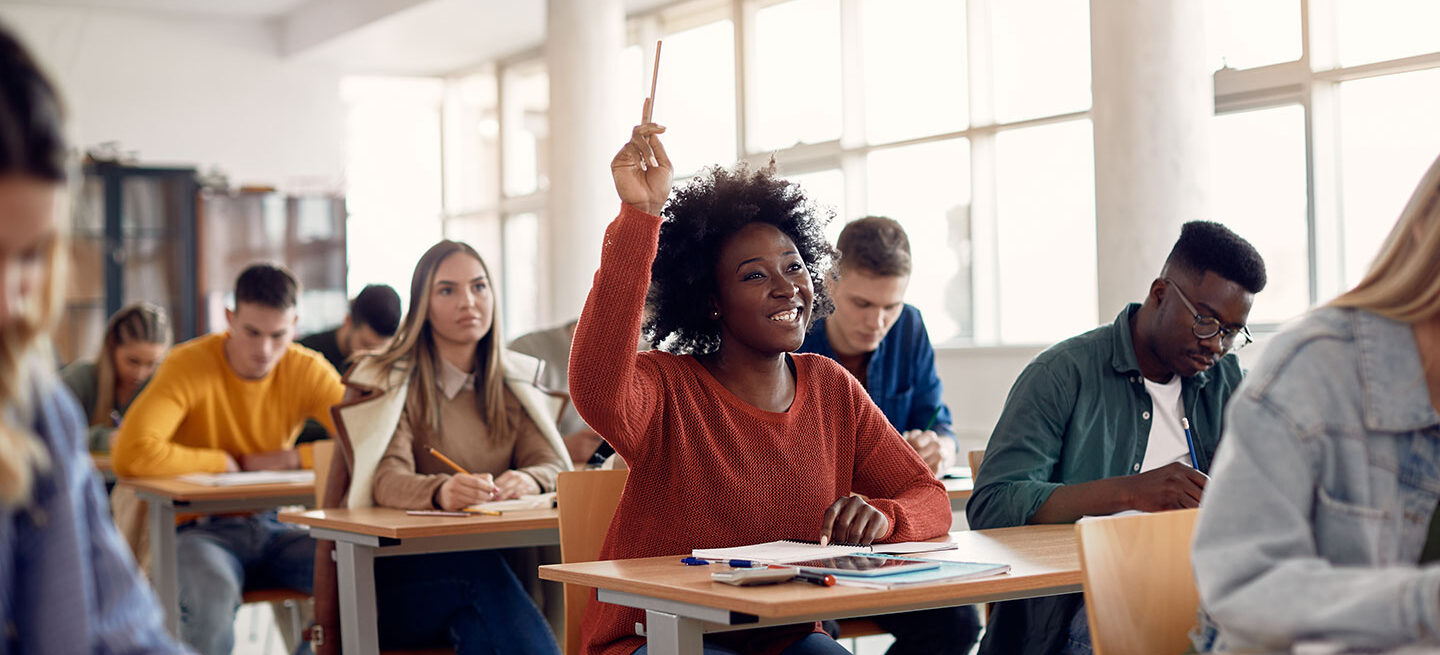 Sallie Mae Q&A: Your College Financing Questions Answered
Financial Literacy
It's time to talk. Americans owe $1.7 trillion in student loans – and roughly 93% of that debt is made and held by the federal government.
Higher education lays the foundation for future success, and loans can help make those successes and dreams a reality. But responsible repayment begins with responsible lending – that's where Sallie Mae® comes in. We clarify the complex world of college financing and help students achieve their education goals. How? Let's start at the beginning…
How much do students typically rely on loans to pay for college?
College financing looks different for everyone and not everyone borrows to pay for college. In fact, roughly 45% of bachelor's degree recipients from public and private non-profit four-year colleges graduated with no student debt, according to College Board.
According to Sallie Mae's How America Pays For College report, in the 2021-22 school year, families reported spending an average of $25,313 on college, with borrowed money like loans covering 18% of that. Family income and savings covered over half of these total costs and scholarships covered another quarter.
We believe that responsible borrowing begins with responsible lending, and that we're only successful when our students are. This approach has proven enormously successful for our borrowers.
How do students pay for college?
Students and families pay for college through a combination of income and savings, scholarships, grants, and loans. After maximizing money that doesn't need to be paid back, such as scholarships and grants, the next step in the college financing process is to fill out the Free Application for Federal Student Aid (FAFSA®). The FAFSA opens the door to federal, state, and school-based financial aid, including scholarships, grants, work-study, and federal student loans. After completing the FAFSA and evaluating financial aid offers from schools, if families need more to cover remaining costs, they can apply for credit-based private student loans to fill the gap. Private lenders like Sallie Mae will look at creditworthiness and repayment history before approving loan applications.
How does Sallie Mae help?
Sallie Mae is best known as a private student loan lender, but as an education solution provider, we make it easier to understand, plan for, and finance higher education. We believe higher education should be affordable and accessible.
We offer several free resources like planning calculators and a scholarship search tool that help students build their plan – and pay for college – with confidence. If families need more to cover remaining costs, we offer credit-based private student loans. Lending responsibly also means assessing the ability to repay before a loan is approved. In fact, on average approximately 2% of our loans in repayment default annually.
Is Sallie Mae part of the federal government?
No. Sallie Mae is a private student lender – we offer private, credit-based loans.
Our name has been around for decades, but the company we are today is fairly new. Sallie Mae stopped originating federal student loans in 2010. Today, we exclusively offer private student loans. Even before we offer a private student loan, we help student and families build an effective and responsible plan to pay for college with a three-step approach. We advise them to start with free money and then explore federal student aid before considering a private loan.
What's the difference between federal and private student loans?
The federal government is the largest provider of student loans, holding roughly 93% of all student loan debt. Federal student loans are made to all eligible students who apply for them; they are issued directly to students, without underwriting.
Private student loans, on the other hand, are originated by credit unions, state agencies, and banks like Sallie Mae. Private student loans make up about 8% of all student loans. They are recommended as supplemental support to students and families who have financed the bulk of their education with income and savings, scholarships and grants, and federal aid. Private student loans are made to students, often with a cosigner, and require an evaluation of creditworthiness before they're issued.
What is a federal Parent PLUS loan, and how is it different from other federal student loans?
Federal Parent PLUS loans are made to students' parents rather than to students themselves. Unlike federal student loans, federal PLUS loans are unlimited up to a school's full cost of attendance, minus any financial aid the borrower's child has already received. These loans do require a basic credit check.
Federal Parent PLUS loans come with higher origination fees and higher interest rates than other federal student loans. Additionally, repayment for these loans can begin right away. These factors, in conjunction with the unlimited nature of PLUS loans, mean that they can be difficult to pay back.
When and how do students start paying back loans?
Federal student loans are either direct subsidized loans, direct unsubsidized loans, or direct PLUS loans. Federal student loans are available to any eligible student who completes the FAFSA; they are not underwritten and do not assess the ability to repay. Depending on the loan, students can make payments while in school or defer payment until after college although interest will accrue during this time. Many federal student loans offer income-based repayment plans, which allow qualifying borrowers to make monthly payments based on a percentage of the borrower's salary after college.
If families need more to cover remaining costs, private lenders like Sallie Mae offer credit-based student loans to fill the gap. When students are approved for a private loan, they can choose either a fixed or variable interest rate and from a variety of in-school repayment options that determine how much principal – the original loan amount – and how much interest is paid back each month. Sallie Mae pioneered the option of making small or interest-only in-school payments to reduce total debt and keep overall balances down. More than half of our customers choose to do this. In fact, choosing an in-school payment option may also lead to a more effective interest rate. Students can also choose to defer until six months after leaving school.
It's critical that students understand their loan and repayment options before making the commitment. That's why Sallie Mae provides resources and tools for students and families to help them navigate the college financing process. We conduct routine communication with students about their loans while they are in school, long before their first payment is due and provide annual student loan snapshots to help them understand how much they owe and what strategies they can implement to help them pay down faster.